The New Zealand Herald has published an article highlighting 5 areas that are P Lab hotspots. See below for the article. If you would like to see it on the Herald site please click here.
____________________________________________________________________
Five areas in the North Island have been identified as "hot-spots" where a P lab is more likely to be found.
University of Auckland researchers have been looking at the prevalence and geographical spread of where the illegal drug methamphetamine was being made.
In the study, published this week, Helensville, Herekino (in the Far North), Hamilton Central, Opanuku (in West Auckland) and Newton (in Central Auckland) were identified as "hot-spots".
Drs Daniel Exeter and David Newcombe had gathered and mapped out police data of clandestine meth lab seizures (2004 to 2009).
They analysed this further in light of an area's demographic features and found in three of these areas the residents tended to be younger, earned less, had higher levels of deprivation and it was a more rural area.
However, the researchers, from the University's School of Population Health, said these socio-economic characteristics were not as visible in both Hamilton and Helensville.
Exeter said this suggested there were other unknown factors at play.
"There's no single group of determinants or causes that we can attribute to an environment that is a meth lab production hub," he said. "Meth, and meth production, knows no bounds."
The research titled; The geography of methamphetamine manufacture in New Zealand between 2004 and 2009, showed the majority of clandestine meth labs were found in a private residence – accounting for 808 (76.5 per cent) of 1056 seizures carried out in 2004 to 2009.
From 2004 to 2009 clandestine meth laboratory seizures from a vehicle accounted for 138 (13 per cent) and 21 were at a motel or a hotel (2 per cent).
Other places where seizures occurred were in a public place, such as a cemetery, park, school yard dumpsters and the parking lot of a police station or storage unit.
National manager Organised Crime detective superintendent Greg Williams said police were concerned about the drug's impact on the community.
Since 2009 he said police had been working to break supply chains and enhance support for those who needed it.
"It is a concern for police why members of our community would even consider experimenting with or continue to use it when they know the serious consequences it can have."
Exeter and Newcombe hoped their investigation could help those working to curb the drug's production and its use to further hone in on areas that needed help most.
Newcombe said the geographical information could prove useful if it was incorporated into public databases.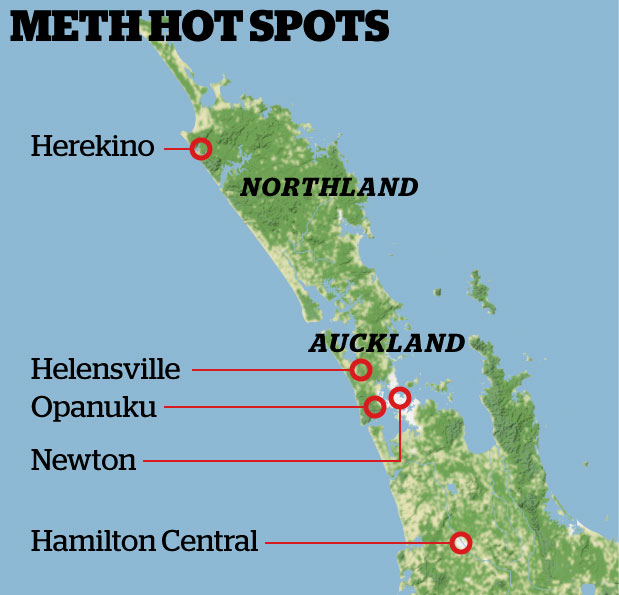 "For instance, a national clandestine methamphetamine laboratory registry accessible to the public may be beneficial to potential home owners and renters who want to ensure their families are protected from exposure to methamphetamine contaminated properties."
One Hamilton landlord, who didn't want to be identified, had experienced first-hand the costly impact of a meth-contaminated property.
He only found out meth had been in the Frankton house when he went to sell last year – but due to exclusions in his insurance policy was unable to claim on damages.
The landlord was unable to prove conclusively it had been used as a lab, but said the level of contamination in one room was consistent with those that had been.
"I was gutted when I found out the house was contaminated," he said. "But I thought I should have insurance and I will just get it cleaned up and back on the market, good as gold."
But one year on the house, which had an asking price of $329,000 remained vacant and was for sale "as is, where is".
Few acceptable offers had been made.
"I had one of $80,000, I didn't know if it was a joke."
So to improve his chances at a sale, he is forging ahead with decontaminating the property, at a cost of around $10,000 this week.
He also has to get a new kitchen, six new ceilings, a new stove, eight new walls, replace the insulation in the roof, all of the doors, door handles and light switches.
The story behind the research
Waitakere Ranges Local Board member Neil Henderson was walking along Scenic Drive when he saw six 20 litre containers containing a "disgusting liquid".
"I'd done a lot of environmental work in the ranges for a decade or so," he said. "I'd often stop off on Scenic Drive and look at where people were doing organic dumping. At a beautiful spot near the Arataki Visitor Centre I saw some white containers."
He said the flagons typically used for storing sodium hydroxide – a precursor to the drug – were later confirmed as being used for the manufacture of meth.
The discovery of the meth-related utensils and liquid, some six years ago, led to Henderson asking questions.
"How much more of that is out here? Where is it going to be coming from? Who's doing it? How much meth do you get from that and where was it all happening?"
Wanting answers he raised the questions with Exeter and the idea for the research project, which was this week published in Policing: A Journal of Policy and Practice, was born.
Henderson said rangers he spoke to working in the Waitakere Ranges said it wasn't uncommon to find items used to make P in the bush.
He said it was concerning as the chemicals had the potential to leak into the environment and could have the potential to contaminate the water supply and rivers.
Henderson said meth remained a concerning problem in the community. He said the isolation of areas out west made it easy for people to set up a lab.
"We'd been aware of a variety of places out west, not just in urban environments, places where people can rent out very private places."
He said the contaminated properties often needed to be shut down while clean-up and repairs were done.
"Aside from the whole effect it has on P-addicts, there's this ongoing problem of shutting down accommodation that people can be getting into."
However, he was pleased his discovery six years ago had accumulated in research that could prove useful in analysis into the breadth of the problem.
______________________________________________________________________
If you suspect your property is contaminated please call a testing company. We can suggest a few independent reputable testing companies to help you. Please contact us on 09 216 8344. And of course call us first to get the best possible result if your property has been found with meth contamination.
______________________________________________________________________